Custom Hoodie Manufacturer
Too Fabric is a custom hoodie manufacturer for your brand. We are the fastest and easiest way to build or promote your brand through high-quality production.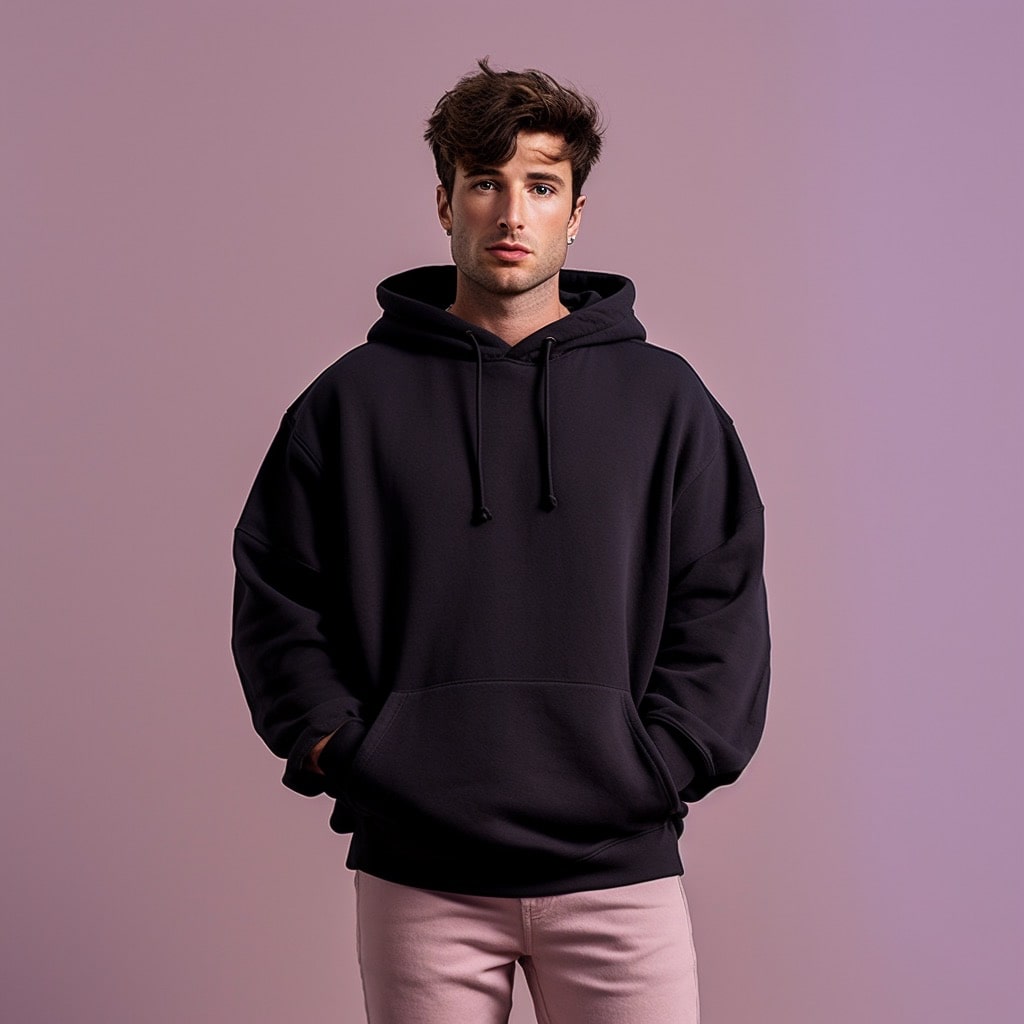 Introduction to Custom Hoodie Manufacturing
The custom hoodie manufacturing business is currently flourishing. It is an ideal entry point for anyone seeking to embark on a career in the fashion industry as it is affordable, easy to customize, and can be sold at a reasonable price point that suits almost everyone's budget.
Customizing hoodies offers endless possibilities. You can print unique designs or logos on your hoodies or create something distinctive for yourself or as a gift for someone special. Custom hoodie manufacturing makes it all possible.
To achieve a successful outcome with custom hoodie manufacturing, it is crucial to partner with the right company. It is vital to ensure that they possess industry expertise and comprehend precisely what you require to achieve the best results possible. This entails researching various companies and receiving quotes from each one before making any decisions on who will be executing your project.
Why You Should Work with a Custom Hoodie Manufacturer
Are you looking to expand your clothing brand, gain loyal customers, and establish yourself in the fashion industry with hoodies? Then you need to find a hoodie manufacturer you can trust! With so many options available, it can be difficult and tedious to differentiate between reliable and unreliable companies. This page covers the importance of choosing a reliable manufacturer and provides tips to identify a quality company for your outsourcing needs.
Partnering with a custom hoodie manufacturer is the optimal choice when looking for custom hoodies. With their experience and knowledge, you can create the perfect design for your needs. From a variety of materials, colors, and sizes, you'll get a top-notch product. Furthermore, expert customer service and support are available to answer any questions you may have. Working with a custom hoodie manufacturer guarantees that your hoodie will be exactly as you envisioned.
Custom Hoodie Manufacturers Are Experienced
When thinking about the top fashion brands for hoodies, there are several key elements to consider. Firstly, they are likely to have an iconic logo that is visually appealing. Secondly, they may feature creative artwork designs that help to set them apart. Lastly, the most important factor is the quality of the product – the top brands are known for their excellent craftsmanship.
Having a great logo or design is not enough if it is going to be printed on a low-quality piece of fabric and begin to fade within months. Therefore, if you are not in charge of the manufacturing process, it is essential that you find a reliable and high-quality custom clothing manufacturer. Poor quality is one of the main reasons why clothing brands fail, so when looking for someone to produce your custom hoodie, you must be very discerning.
Custom Hoodie Manufacturers Are Low-Cost
Having a reliable manufacturer in your corner can result in increased productivity and cost savings, making it an essential part of your operations.
Over time, setting up your own manufacturing operation may become cheaper, but the initial costs and labor needed to accomplish this can be too much for a small fashion label. To save money and time, it is best to go with a reliable hoodie manufacturer. This can prevent the hassle of finding the most cost-effective materials, choosing the technology to use for your designs, and making sure the job is done correctly. For a small and growing fashion brand, these tasks can be very time-consuming and costly. Instead, you should concentrate on marketing and creating a name for yourself. Working with the right custom clothing makers can help with this, as it will give you more time and money to focus on being creative.
Custom Hoodie Manufacturers Are Flexible
One of the key things that you need to keep an eye out for when searching for the hoodie manufacturer that you'll partner with is the degree of options that they provide in terms of design application, materials, and other items of clothing. A subpar manufacturer with a high minimum order level will leave you with an abundance of products made in one style alone, which may be harder to shift or may work poorly with your particular designs.
When it comes to applying designs to garments, you want custom hoodie printing options such as embroidery, screen printing, transfer printing, and more. This gives you the freedom to experiment with designs for different hoodies and allows you to create different pricing levels within your range, with a mixture of entry-level and more upscale products. 
GSM (Grams per Square Meter), also known as g/m2 in the textile industry, is used to measure fabric thickness and durability. Fabrics with higher GSM values tend to be thicker and more durable. For hot weather, lightweight fabrics such as 320 and 340 g/m2 are recommended, while heavier fabrics such as 400 g/m2 are preferred for cold weather.
You need to assess the manufacturer's capability of handling colors when considering a range of design application methods. Many manufacturers have a color chart that they can manage more easily, and some companies can't stray from it. A reputable manufacturer will do their best to meet your color choices, even if they don't match the color chart they usually use.
Custom hoodie manufacturers have a specific minimum order quantity based on their production line. Brushed Fleece (80% cotton 20% polyester) and French Terry (100% cotton) are the best-selling fabrics in terms of comfort and feel.
340 g/m2 (Brushed Fleece, 80% cotton 20% polyester): The minimum order quantity (MOQ) is 100 pieces for the colors in the color chart. Please click 

here

 to see the color chart. The MOQ for Pantone-colored fabrics is 300 pcs per fabric color.

340 g/m2 (French Terry, 100% cotton) : The MOQ for black, white, and cream is 100 pcs per style and fabric color. The MOQ for Pantone-colored fabrics is 300 pcs per fabric color.

400 g/m2 (French Terry, 100% cotton): The MOQ for black, white, and cream is 100 pcs per style and fabric color. The MOQ for Pantone-colored fabrics is 300 pcs per fabric color.
Custom hoodie manufacturers offer various printing options to cater to the diverse needs of their customers. Some of the popular methods used for printing hoodies include embroidery, screen printing, heat transfer, and direct-to-garment (DTG) printing. Each method possesses unique advantages and is suitable for different fabric types and designs.
Embroidery is a traditional technique that involves directly stitching the design onto the hoodie, producing a high-quality and long-lasting finish. It is ideal for logos, monograms, or text designs and can provide a premium look and feel to the hoodie.
Screen printing is a versatile method that produces sharp edges and vibrant colors in intricate designs. It entails creating a stencil of the design and utilizing a mesh screen to apply the ink onto the hoodie. Screen printing is suitable for bulk orders and can be used on a wide range of fabrics.
Transfer printing is a process that involves printing the design onto a transfer paper, and then using heat to transfer the design onto the hoodie. It is appropriate for creating designs with multiple colors or gradients and is suitable for smaller quantities.
Direct-to-garment (DTG) printing employs a specialized inkjet printer to apply the design directly onto the hoodie. This technique is perfect for highly-detailed designs with numerous colors or gradients and can be used on various fabrics. However, it is best suited for smaller orders due to its higher cost.
With the availability of various printing techniques, custom hoodie manufacturers can offer a wide range of design options to their customers. Selecting the appropriate printing method based on the fabric type and design is crucial in achieving the best results for the project.
The following measurements are necessary for creating regular and oversized patterns:
A– Chest
B– Length (inc. rib.)
C– Sleeve Length (inc. rib.)
D– Shoulder to Shoulder
E– Biceps
F– Waist
G– Hem
H– Top Pocket Width
J– Center Pocket Height
K- Side Pocket Height
L- Hood Width
M- Hood Height
N- Cuff Rib Width
O- Cuff & Hem Rib Height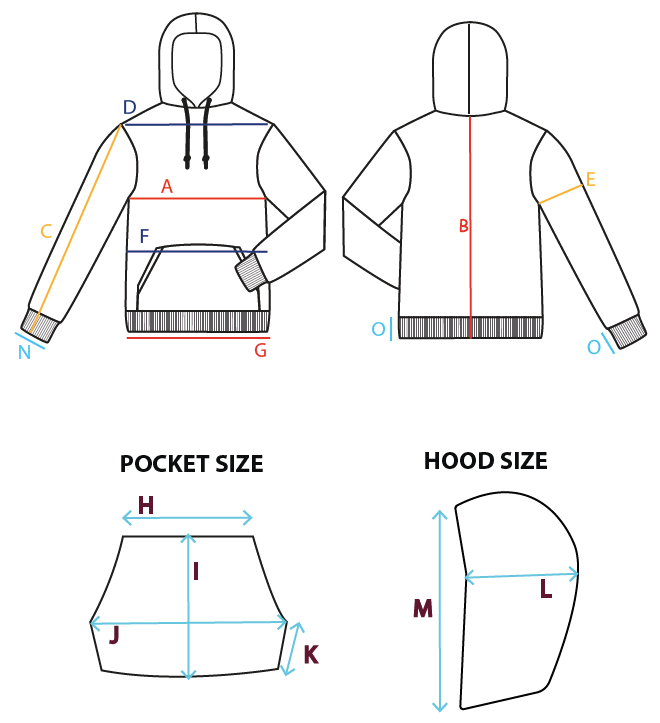 Hoodie Manufacturers Are Helpful Throughout the Process
If your small business is looking to break into the world of fashion, you may have great ideas for designs and logos but not know much about the complexities of designing and producing clothing. In this situation, it is best to work with a company that can help you create design samples based on your requirements.
Working with a hoodie manufacturer to produce a quality product is essential. Communicating your concept to them clearly and having a healthy back and forth dialogue will ensure that your product meets the high standards you need for success. Product visuals and design samples will help you visualize the product you will eventually bring to your customers.
An experienced manufacturer can be an invaluable partner when it comes to designing the best garments and creating visual design concepts. They can help take your ideas and turn them into tangible prints and designs that fit your brand. Whether you have an idea of the vibe or style you're looking for, or need help figuring out the best design for your garments, a manufacturer can provide the technical expertise and knowledge to help you bring your vision to life.
Sustainable Hoodie Manufacturers Utilize Quality Materials & Staff
Sustainable hoodie manufacturers ensure quality materials and personnel are used in their production processes. They strive to make sure that the materials used are from renewable sources, and the staff employed are treated fairly and paid a living wage. By doing this, they are helping to reduce their environmental impact and create a better working environment for their employees.
Maintaining High-Quality Materials
When considering the triumphs of renowned brand success stories, exceptional quality always emerges as a defining factor. Achieving superior quality necessitates a proficient team utilizing the finest materials available. In the realm of clothing, enduring comfort and resilience are vital components of any triumphant fashion brand, including custom hoodies. Hoodies can be composed of various materials, including 100% cotton, organic cotton, or polyester. It is crucial to ensure that, along with the ability to select among these materials, you receive the highest quality of each.
Sustainable production is a system that endeavors to minimize environmental impact, decrease waste, and promote ethical labor practices. The OEKO-TEX and GOTS certifications are two of the most commonly employed certifications for sustainable production.
OEKO-TEX certification is designated for materials and textiles, ensuring that no hazardous substances are utilized in their production and that regular compliance testing is conducted. This certification is universally acknowledged as a trustworthy indicator of sustainable and secure production techniques within the textile industry. Customers gain confidence and assurance in knowing that the products they purchase are not only devoid of harmful substances but also environmentally sustainable. OEKO-TEX certification is applicable to numerous textile items, including clothing, bedding, and home decor, making it a critical standard for both businesses and consumers.
GOTS, which stands for Global Organic Textile Standard, is a certification for textile and apparel production that mandates compliance with a set of environmental and social standards throughout the production process, from raw materials to labeling. It guarantees the usage of organic fibers in production, ensures the preservation of safe working conditions, and prohibits the use of hazardous chemicals. GOTS certification also encourages ethical labor practices and equitable wages for workers in the textile and apparel industry. Furthermore, it enforces strict wastewater treatment regulations on companies to minimize the environmental impact of production.
Excellence in Staff Quality
When it comes to the team, you want to be ensured that they possess a high level of expertise as well as good working conditions. It is morally wrong for western businesses to outsource to sweatshops, as the products from these places are usually low-quality and mass-produced. Being aware of the team's working environment gives you confidence in the quality of the finished hoodies that you receive.
Consider Turkish Clothing Manufacturers
Turkey is becoming a major force in the fashion industry due to its high-quality apparel. The country has gained recognition for its superior-quality clothing, making it a go-to source for apparel outsourcers throughout Europe. There are various factors driving this trend, including the use of top-notch materials and the skilled craftsmanship of the nation's clothing makers. Furthermore, the country's strong textile industry and its advantageous geographical location make it a prime destination for fashion-lovers. There are many reasons why clothes from Turkey are taking the fashion industry by storm, including:
Quality: Turkish clothing manufacturers are renowned for their high-quality products. They use advanced technology, such as digital printing and laser cutting, to create garments that are durable, comfortable, and stylish. Turkish manufacturers also pay close attention to detail, ensuring that each product is up to the highest standards.
Variety: Turkish clothing manufacturers offer a wide range of apparel styles, from casual to formal. They are also experienced in creating custom garments, so you can be sure to get exactly what you need.
Cost-effectiveness: Turkish clothing manufacturers offer competitive prices on their products. This means that you can get the same quality of clothing without spending too much money. And because their prices are so low, you can stock up on a variety of styles without breaking the bank.
Fast turnaround: Turkish clothing manufacturers are known for their quick turnaround time. This means that you can get your order quickly, allowing you to start selling your products in no time.
Great customer service: Turkish clothing manufacturers are usually very accommodating and willing to work with their customers to ensure complete satisfaction. They are also willing to go the extra mile to guarantee a high-quality product.
Outsourcing your custom hoodie business to Turkey can provide you with a very high quality product, featuring some of the finest materials, at a significantly lower cost than if you were to purchase in the EU.
How to find a perfect Hoodie Manufacturer?
Are you looking for a reliable manufacturer of regular and oversized hoodies to bring your brand vision to life? Look no further than Too Fabric from Turkey. We are renowned for our flexibility, superior quality, and committed employees.
At Too Fabric, we recognize the significance of producing superior goods. Our dedication lies in furnishing our clients with top-tier hoodies that are crafted from robust materials and showcase vivid colors that remain unfaded. We employ cutting-edge printing methods to guarantee precise representation of your designs, while ensuring that the prints don't undergo any wear or tear. Furthermore, we meticulously scrutinize each item before dispatch, guaranteeing that our customers receive nothing but first-rate products on every occasion.
We offer a wide variety of garments, from custom hoodies to T-shirts, sweatshirts, sweatpants, polo shirts, jackets, cargo pants, shorts, aprons, towels, and more. With our commitment to sustainability and high-quality products, we are the perfect one-stop shop for all your garment needs.
To learn more, get a quote now!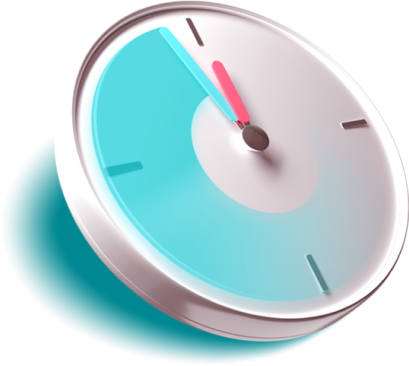 Average Reply Time: 1 Hour
We reply to our clients in just 1 hour during working hours.
The fastest and easiest way to create your project!