Custom T-shirt Manufacturers
Too Fabric is one of the best custom T-shirt manufacturers for your brand. We are the fastest and easiest way to build or promote your brand through high-quality production.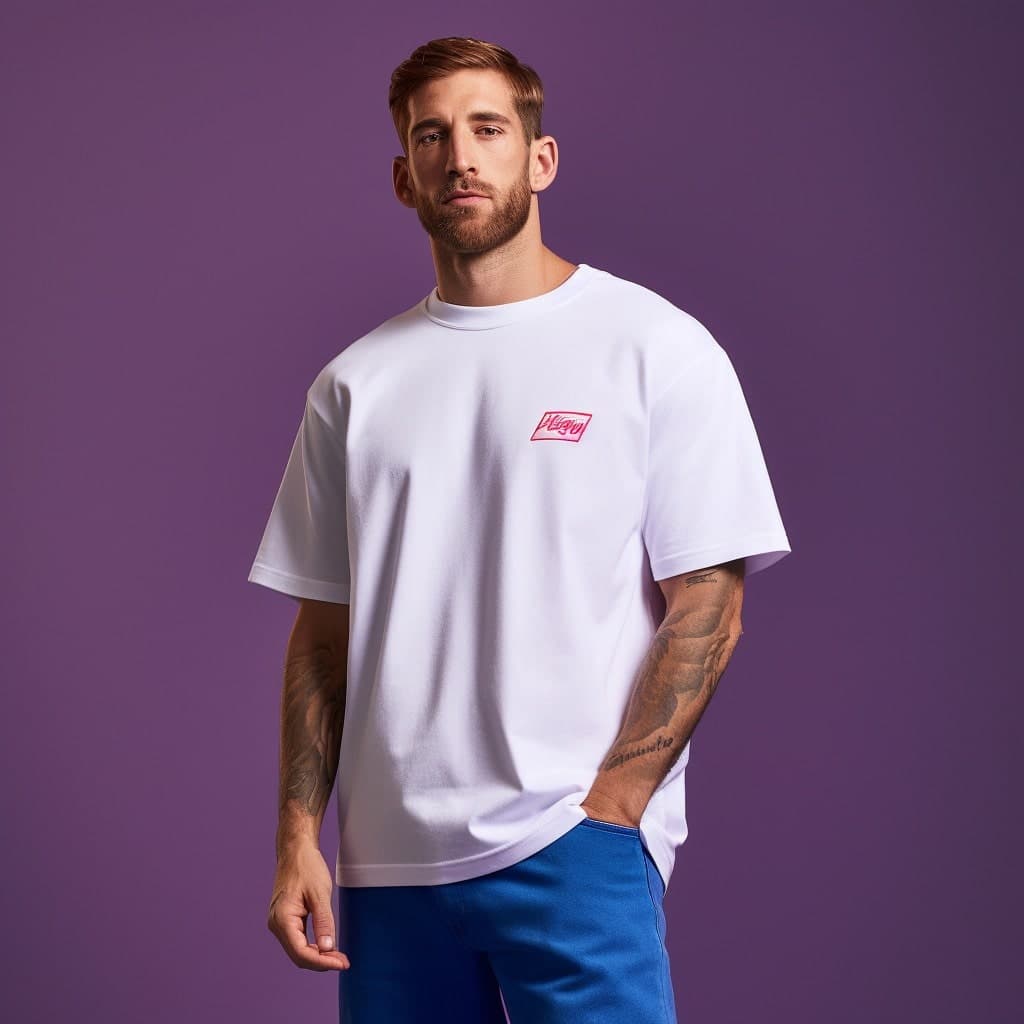 Introduction to Custom T-Shirt Manufacturing
The custom T-shirt manufacturing is a booming business. For those looking to break into the fashion industry, there's no better place to start than with custom-made T-shirts. They are affordable, easy to customize, and can be sold at an affordable price point that almost anyone can afford.
When it comes to customizing a T-shirt, the possibilities are endless. Whether you want a unique design or logo printed on your shirts or just want to create something special for yourself or as a gift for someone else, you can do it all with custom T-shirt manufacturing.
The key to successful custom T-shirt manufacturing is working with the right company. You want to make sure they have experience in the industry and understand exactly what you need from them to get the best results possible from your product. This means researching different companies and getting quotes from each one before making any decisions about who will be doing your work for you.
Why You Should Work with Custom T-Shirt Manufacturers
If you're wondering how to grow a clothing brand, gain loyal customers, and become established in the fashion industry with T-shirts, then you need to work with T-shirt manufacturers that you can trust! Trying to sift through all the different T-shirt manufacturers out there can be a time-consuming and boring process, especially if you're not sure how to separate the wheat from the chaff.
Regarding producing clothing for your brand, one of the most important decisions you have to make is where to outsource your manufacturing. Working with custom T-shirt manufacturers can provide you with a number of benefits and advantages that will help you create successful products and build a loyal customer base.
High-Quality T-Shirts vs. Promotional T-Shirts
High-quality T-shirts prioritize the wearer's experience. Crafted often from superior materials like premium cotton, modal, or blends, they offer exceptional softness and durability. These t-shirts are designed for longevity, both in terms of fabric endurance and style relevance. Manufacturers of high-quality T-shirts pay close attention to details such as stitch consistency, fabric weight, and print quality. They're not just apparel; they're often a style statement. When you buy a high-quality T-shirt, you're investing in comfort, style, and durability.
On the other hand, promotional T-shirts are primarily designed as branding tools. They're often commissioned in large quantities for events, product launches, or corporate giveaways. The primary aim is visibility and brand recognition rather than long-term wear. While they can still be comfortable and visually appealing, promotional t-shirts might not boast the same fabric quality or attention to detail as their high-quality counterparts. They serve as walking advertisements, spreading a message or promoting a brand, product, or event.
High Quality T-Shirts for Fashion Brands
In the diverse realm of fashion, the essence of a brand isn't just encapsulated in the designs but also in the craftsmanship behind each piece. T-shirts, often seen as the staple of casual wear, hold a special place in this narrative. Their creation, especially when entrusted to expert T-shirt manufacturers, can elevate a fashion brand's stature immensely. Delving deeper, let's uncover the reasons why partnering with proficient T-shirt manufacturers is pivotal for fashion brands.
In the crowded fashion space, what differentiates one brand from another is often the quality of their offerings. T-shirt manufacturers, known for their expertise, give brands an edge, ensuring every garment is impeccable. By emphasizing this superior craftsmanship in their marketing narratives, brands can distinguish themselves. This commitment to perfection not only captivates the current consumer base but also attracts potential customers, propelling the brand to greater heights.
In an era dominated by digital voices, a brand's reputation can be shaped or shattered by consumer feedback. T-shirts produced by skilled manufacturers can lead to glowing endorsements, whereas a suboptimal product might invite criticism. By aligning with top T-shirt manufacturers, fashion brands ensure that every piece receives applause, positively influencing public perception. Such collaborations reflect a brand's dedication to delivering the best, thereby bolstering its image in both online and offline spheres.
Reduced Returns and Exchanges
T-shirts crafted by adept manufacturers are known for their consistency in fit and finish. This precision reduces issues like discrepancies in size, color inconsistencies, or material defects. Fewer quality issues translate to fewer returns, saving brands from logistical challenges and potential reputational hits. Partnering with reliable manufacturers, thus, streamlines operations and enhances customer satisfaction.
Sustainability and Ethical Fashion
Today's discerning consumers seek brands that are environmentally conscious. Many T-shirt manufacturers are championing sustainable practices, sourcing materials responsibly, and reducing waste. By choosing such manufacturers, fashion brands convey a message of responsibility and environmental stewardship. This not only results in garments that are eco-friendly, but also enhances the brand's image in the eyes of consumers who prioritize sustainability.
Promotional T-Shirts for Business Events
Promotional T-shirts, diligently and artistically crafted by leading T-shirt manufacturers, emerge not just as a branding strategy but as a representation of the company's ethos. They effortlessly combine form and function, serving both as wearable fashion and powerful brand emissaries. Whether showcased at trade shows, product launches, or business seminars, these T-shirts elevate a brand's visibility and create memorable touchpoints. Delving deeper, let's examine why getting promotional T-shirts manufactured is instrumental for impactful business events.
Instant Brand Recognition
Top-tier T-shirt manufacturers have mastered the art and science of impactful branding. Amidst the bustling backdrop of banners, digital displays, and interactive booths, a T-shirt bearing a company's emblematic logo and distinct colors becomes a striking landmark. It acts as a potent symbol of the brand's presence, drawing attendees' attention. This not only ensures that your brand remains palpable in the event's milieu but also accentuates its distinct identity, paving the way for more immersive interactions.
Every promotional T-shirt worn is a live testament to the brand's narrative. With designs conceived by astute T-shirt manufacturers, these garments become more than just fabric; they narrate a brand's story. As attendees transform into brand advocates, the ripple effect of this mobile advertisement expands far and wide. From the confines of the event to public spaces post-event, these T-shirts function as ongoing brand reminders, keeping the company's message alive and pulsating.
Aligning with proficient T-shirt manufacturers for a coherent promotional attire serves a dual purpose. Not only does it enhance aesthetic branding, but it also knits the team in a unified sartorial thread. This visual cohesion presents a team that's both harmonized in its vision and purposeful in its presentation. It signals a collective identity, making them more approachable and facilitating richer engagements with attendees.
Engaging with experienced T-shirt manufacturers yields economic and branding dividends. The relatively modest investment in T-shirt production, especially with bulk orders, often pales in comparison to other more transient marketing endeavors. Yet, the longevity and outreach of these T-shirts offer continuous brand exposure. They encapsulate the essence of cost-effective marketing, providing consistent returns on a one-time investment.
Custom T-Shirt Manufacturers Breed Success
If you consider a top fashion brand in the realm of T-shirts, what are some of the things that come to mind? An iconic logo is probably up there, as are attractive and creative pieces of artwork. Most importantly, the thing the top brands all have in common is the quality of their product.
A great logo or design doesn't mean that much if it's going to scratch off a low-quality piece of fabric within months. So, if you're not handling manufacturing yourself, you need to work with a truly high-quality custom clothing manufacturer. Lacking quality is one of the most common causes for clothing brands to fail, so if you're going into having your own custom T-shirts produced, you need to be picky about whom you trust with the manufacturing process.
Custom T-Shirt Manufacturers Are Efficient
Another reason why it's vital to enlist the help of a manufacturer that you can trust is the efficiency that it will bring to your operations, in terms of both production and cost.
While it may eventually be cheaper to set up your own manufacturing operation years and years down the line, the initial investment and workforce needed to pull this off are usually far too much for a smaller brand to bear. By going to a trusted T-shirt manufacturer, you can have your garments produced at affordable prices.
This isn't to mention the headache of sourcing materials for the best possible prices, deciding which technology to use in applying your designs, and then, of course, figuring out how to do the job properly. As a smaller, growing fashion brand, these aspects of business are a lot to take on, when really your focus should be on marketing and getting your name out there. By working with the right custom clothing manufacturers, you free up time and funds for investments in creativity.
Custom T-Shirt Manufacturers Offer Options
One of the key things that you need to keep an eye out for when searching for the T-shirt manufacturer that you'll partner with is the degree of options that they provide in terms of design application, materials, and other items of clothing. A subpar manufacturer with a high minimum order level will leave you with an abundance of products made in one style alone, which may be harder to shift or may work poorly with your particular designs.
When it comes to applying designs to garments, you want custom T-shirt printing options such as embroidery, screen printing, transfer printing, and more. This gives you the freedom to experiment with designs for different T-shirts and allows you to create different pricing levels within your range, with a mixture of entry-level and more upscale products. 
In the textile industry, g/m2 is referred to as GSM, or Grams per Square Meter. GSM indicates a fabric's thickness and durability, so fabrics with a higher GSM are usually thicker and more durable.
Lightweight fabrics, including 160 and 180 g/m2 are recommended for hot weather. Heavyweight fabrics such as 200 and 280 g/m2 are widely preferred for all year round.
Along with the variety of design application techniques, you need to look at the manufacturer's capacity to work with colors. Many manufacturers have a color chart of colors that they can work with more readily, with some companies plainly unable to deviate from it. A good manufacturer will always work to accommodate your color choices, even if they aren't aligned with their preferred color chart.
Custom T-shirt manufacturers have a specific minimum order quantity based on their production line. Single Jersey (100% cotton) is the best-selling fabric in terms of comfort and feel.
160 g/m2: The minimum order quantity (MOQ) is 100 pieces for the colors in the color chart. Please click 

here

 to see the color chart. The MOQ for Pantone-colored fabrics is 1000 pcs per fabric color.

180 g/m2: The MOQ for black, white, cream, red, and navy blue is 100 pcs per style and fabric color. The MOQ for Pantone-colored fabrics is 1000 pcs per fabric color.
200 g/m2: The MOQ for black, white, cream, red, and navy blue is 100 pcs per style and fabric color. The MOQ for Pantone-colored fabrics is 1000 pcs per fabric color.
280 g/m2: The MOQ for black, white, and cream is 100 pcs per style and fabric color. The MOQ for Pantone-colored fabrics is 1000 pcs per fabric color.
Custom T-shirt manufacturers offer different printing options to suit the needs of their customers. Some of the most popular printing techniques used for T-shirts include embroidery, screen printing, heat transfer, and direct-to-garment (DTG) printing. Each method has its own advantages and is suitable for different types of designs and fabrics.
Embroidery is a classic technique that creates a high-quality, durable design by stitching the design directly onto the T-shirt. It is often used for logos, monograms, or text designs and can create a premium look and feel.
Screen printing is a versatile technique that can produce vibrant colors and intricate designs with sharp edges. It involves creating a stencil of the design and then using a mesh screen to apply the ink onto the T-shirt. Screen printing is ideal for bulk orders and can be used on a wide range of fabrics.
Transfer printing is a method of printing that involves printing the design onto a transfer paper and then using heat to transfer the design onto the T-shirt. It can be used to create designs with many colors or gradients and is suitable for smaller quantities.
Direct-to-garment (DTG) printing uses a specialized inkjet printer to apply the design directly onto the T-shirt. This technique is great for highly detailed designs with many colors or gradients and can be used on a variety of fabrics. However, it is best suited for smaller orders due to its higher cost.
With so many printing options available, custom T-shirt manufacturers can provide a wide range of design choices to their customers. It's important to consider the type of design and fabric when selecting a printing technique to ensure the best results for your project.
The following measurements are necessary for creating regular and oversized patterns:
A– Chest
B– Hem width
C– Height from shoulder
D– Sleeve length
E– Sleeve opening
F– Shoulder to shoulder
G– Neck opening
H– Biceps
J– Rib height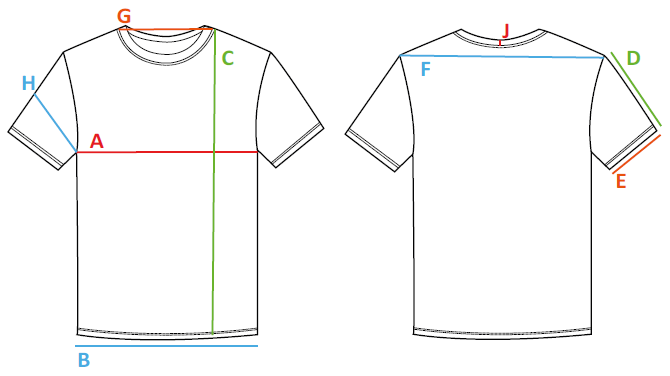 T-Shirt Manufacturers Are Helpful Throughout the Process
When your small business is trying to enter the world of fashion, you might have all the perfect ideas for designs and logos, but not really know much at all about the ins and outs of designing and producing clothes. If this is the case in your manufacturing, you should seek to work with a company that can help you with design samples based on your needs and requests.
This is a great hand in working toward producing a quality product, as product visuals and design samples will paint a clearer picture of what you'll eventually be bringing to your customers. A healthy back and forth with your T-shirt manufacturer will allow you to finalize on a version of your concept that you're truly satisfied with, ensuring that it's done to the high standards that you need to become a success.
Even beyond the technical side of designing the best possible garments prior to printing, a great manufacturer can also assist you in developing your visual design concepts. Sometimes you might have a better idea of a vibe or a basic style that you're interested in, but not entirely sure how you want it to look in practice. Working with an experienced manufacturer can make it clearer what kind of prints and designs you're interested in producing for your brand.
Sustainable T-shirt Manufacturers Use Quality Materials & Staff
High Standards of Materials
When you think of great brand success stories, quality is always a defining factor, which cannot be achieved without a great team that uses the best materials available. Comfort and lasting power are essential facets of what makes a clothing brand successful, and this is just as relevant in the realm of custom T-shirts as it is in any other branch of fashion. T-shirts can be made of 100% cotton, organic cotton, or polyester, among other fabrics, and you need to know that along with having the option to choose between these materials, you're getting the best quality of each.
Sustainable production is a system that seeks to minimize environmental impacts, reduce waste, and promote ethical labor practices. OEKO-TEX and GOTS certifications are two of the most widely used certifications for sustainable production.
OEKO-TEX is a certification for textiles and materials that ensures that no harmful substances have been used in production, and it requires regular testing for compliance. It is recognized globally as a reliable indicator of sustainable and safe production methods in the textile industry. It provides customers with peace of mind knowing that the products they purchase are not only free from harmful substances but also environmentally friendly. The certification covers various textile products, including clothing, bedding, and home decor, making it an essential benchmark for businesses and consumers alike.
GOTS (Global Organic Textile Standard) is a certification for textile and apparel production that requires compliance with a set of environmental and social standards, from raw materials to production and labeling. It ensures that organic fibers are used in production, that safe working conditions are maintained, and that no hazardous chemicals are used. Additionally, the GOTS certification promotes ethical labor practices and fair wages for workers in the textile and apparel industry. It also requires companies to comply with strict wastewater treatment regulations to minimize the environmental impact of production.
When it comes to the team, you want to know that the staff is highly skilled in what they do, along with having good conditions in which to work. Many manufacturers that Western businesses outsource to harvest work from sweatshops, and beyond being morally questionable, these places often produce cheap, mass-produced, and generally low-quality products.
When you know the team working on your T-shirts has good working conditions, you can be more confident in the finished product that's delivered to you.
Consider Turkish Clothing Manufacturers
It's no secret that Turkish clothing is often of a very high standard, which is why the country has become a favorite of apparel outsourcers throughout Europe. There are many reasons why clothes from Turkey are taking the fashion industry by storm, including:
Access to Fabrics: Turkey is one of the top 10 makers of both polyester and wool in the world, while also being the 7th largest producer of cheap cotton. This makes them a great exporter of both raw fabric materials and pre-manufactured garments.
Skilled Labor: Turkey is full of highly skilled workers that are known for working for long stretches to respond to the demand. While there are sweatshops in the country, there are also hundreds of reputable manufacturing facilities with good working conditions.
Low Labor Costs: Turkish companies can afford to pay their employees less than western companies, while still providing them with a reasonable living wage. This means that garment production costs are reduced massively when outsourced to the country.
By outsourcing your custom T-shirt business to Turkey, you can get a very high standard of product, with some of the best materials available, for a fraction of what you might spend in the EU.
How to find perfect T-shirt Manufacturers?
If you're on the hunt for the regular or oversized T-shirt manufacturers to bring your brand concepts into the real world, then why not consider working with Too Fabric. We're a Turkish business that emphasizes our flexibility, our quality of results, and the high working standards of our staff.
At Too Fabric, we understand the importance of creating a quality product. We are committed to providing our customers with the highest quality T-shirts that are made with durable fabrics, and that feature vibrant colors that won't fade. We use advanced printing techniques to ensure that your designs are accurately represented, and that the prints won't crack or peel over time. We also take the time to inspect each product before it is shipped, so you can rest assured that you're getting top-notch products every time.
Along with producing some of the finest custom T-shirts in the world, we also produce sweatshirts, hoodies, sweatpants, polo shirts, jackets, cargo pants, shorts, aprons, towels, and much more, making us a great one-stop shop for all your garment needs.
To learn more, get a quote now!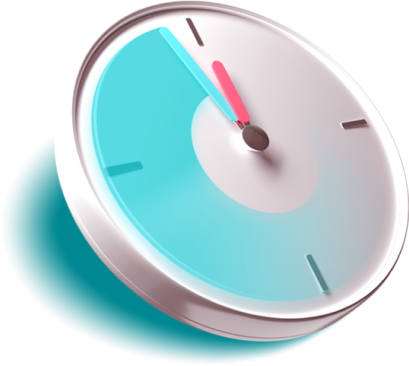 Average Reply Time: 1 Hour
We reply to our clients in just 1 hour during working hours.
The fastest and easiest way to create your project!